FROM DARKNESS takes you straight to the streets of the metropolis Nairobi. We release an Alpha version of their documentary single-player experience in October 2016. 
Nairobi, the capital of Kenya, becomes the starting point of a compelling investigation exploring the lives of journalists, shop owners, community workers, and urban refugees. Players experience these real stories through a fictitious character: a mother, searching for her missing daughter who worked in this region for many years. Through her eyes we can interact with street children, politicians, doctors, NGO workers, restaurant owners, and refugees, who share their insights in interactive interviews.
This exciting interactive journey is produced by the Austrian artist group, gold extra, who are widely recognised for their documentary games and installations, such as FRONTIERS, TOTEM'S SOUND, SOLE CITY, and for various works in European museums.
FROM DARKNESS is based on extensive research in Kenya and Uganda, conducted in close co-operation with African NGOs and many dozens of interviewees. With their help, the artists gathered over 60 hours of interview and video footage, producing an intense interactive documentary experience. The innovative, hauntingly beautiful, multi-layered visual concept mirrors the idea of uncovering various layers of information. It is based on collage techniques, combining original video footage, pictures, and sound into a multi-dimensional environment.
The subjects of this project are the ongoing "resource wars" in Eastern and Central Africa; the current circumstances of urban refugees; and stories of daily life from local communities and groups of refugees. For the latter a special light was put on the Banyamulenge, a Congolese people who have been brutally displaced and are coping with the challenges of exile.
Interactive documentaries are a significant new medium within the genre of transmedia storytelling. FROM DARKNESS opens up new perspectives and creates a walkable piece of art. Viewers and players can explore and uncover layers of stories, memories, political contexts and dreams. A short version of the game is currently on display at the ZKM Karlsruhe in Germany and the Nam June Paik Center Seoul in South Korea.
gold extra's concept of the interactive documentary was awarded the "Media Art Award" of the state of Salzburg in 2012.
An interactive documentary by:
Concept, production, lead design: Reinhold Bidner, Tobias Hammerle, Georg Hobmeier, Sonja Prlic, Karl Zechenter.
Programming and design: Andreas Leitner, Martin Porocnik, Victor Morales.
Voice acting: Lisa Nielsen-Spieler.
Research Partners in Kenia: Susi Kerschbaumer, Titus Mwangi
Research help from Kituo Cha Sheria, AMREF, Mathare Children's Fund Panairobi, Refugee Law Project, GIZ, German Doctors (Baraka), Austrian embassy Uganda, UNHCR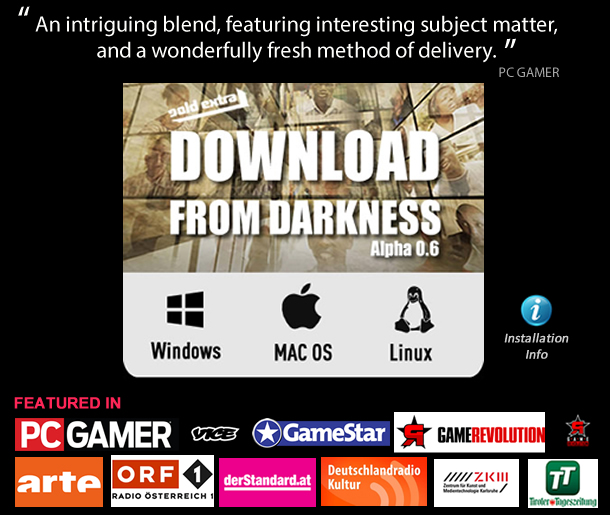 ---
Quotes:
You know, as an orphan, I used to live like an outsider - In the house, in the society. They got me out of that environment, the slum environment and I was placed in a boarding school. I want to be a neurosurgeon and a cardiologist, and learn to help all those people. Diana
You see just darkness, and you wonder till when. We hoped war will stop in Congo, instead day by day different rebel movements are being created, day by day. John
You know as African women, our place is in the kitchen. But nowadays things have changed, we try to come out, we had these issues of women being battered. We came up with a strategy, and we brought them on board. So if you are battered, don't keep quiet, break the silence, tell us you are battered and we take the action. I just give myself courage! We want to make a change in this community. And we are the persons who are going to make that change. Fatuma
---
Supported by the Austrian Development Agency, the county and city of Salzburg, and the Austrian ministry of culture.